The Basics: How To Optimize Your Google My Business (GMB) Listing
Google My Business Listings are the quickest and easiest way for your customers to get information about your business. They pop up first thing on Google search results and Google Maps when someone initiates a local business search. These listings are ranked. And if you're not first, you're last. Just kidding. But it is VITAL to claim and optimize your GMB listing to capture local search traffic.
What is a Google My Business listing?
GMB listings are the businesses that appear in results when someone searches locally.
Here's an example: You're super hangry and need a burger joint ASAP. So you whip out your phone, open up Google, and type in "burgers near me." A Google Map pops up with 3-4 GMB listings underneath that are in your geographic location. These are called the "local pack" and will be more likely chosen by people out of convenience.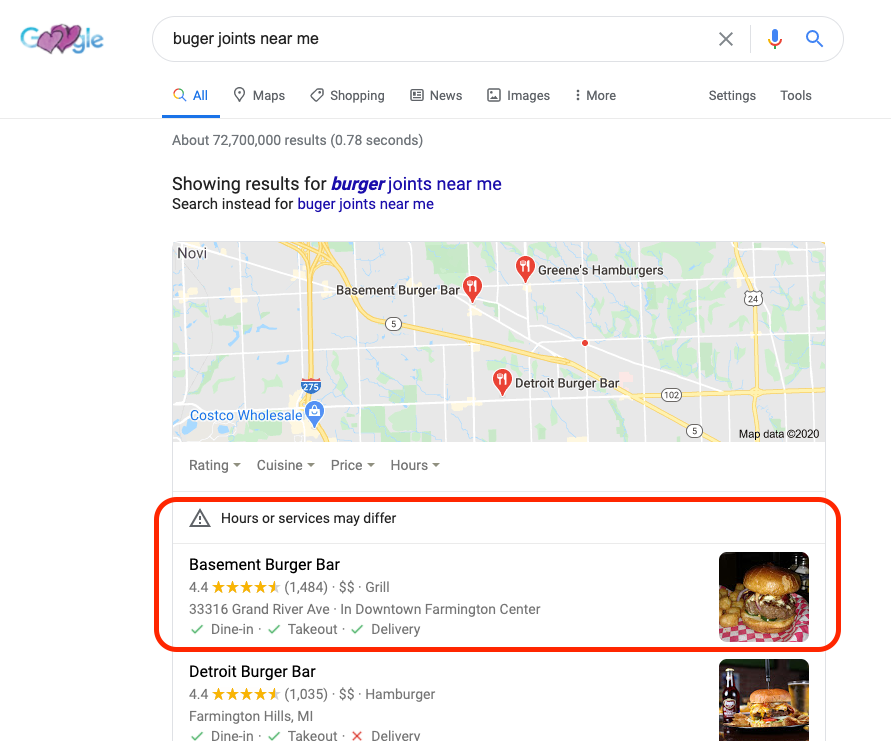 That local pack is definitely where you want your business to be!
How to Optimize your Google My Business Listing
Follow these 5 tips for optimizing your GMB listing so you can be a part of your local pack!
1. Verify
If there's a listing out there for your business already, you'll want to claim it and verify the information. This may take a bit of time, but it's also easy. Here's how you do it.
Log in using your business Gmail account
Google will send you a code to use to verify yourself as the owner of your GMB listing
Verifying yourself as the owner gives you the ability to control and utilize the listing to connect with customers. Now you have the power!
*If you don't already have a GMB account then you can create one from scratch on this page as well.
2. Fill out as much information as possible
Once you own your GMB listing, you will want to fill out as much information about your business as possible. This will help customers and Google identify what it is your business does and what you offer. Photos, descriptions, menus/services, hours – the more information the better.
Photos are a game changer with your listing. If someone can see your business and imagine themselves there and utilizing your service, the more likely they are to choose your business. I think we all can relate to that sense of not just choosing a business, but feeling like we know a business. We'll say it again, the more information, the better!
CAUTION: Google gives users the ability to edit or "suggest" edits to your listing. Yes, even when it's claimed. Google feels this creates a sense of community. However, this also means that someone can add in false information. As an owner you will want to log into your dashboard regularly to make sure all information is correct.
3. Posting
A newer feature of GMB listings is making posts. These are much like social media posts or ad snippets that show up under your listing in search results. Posts can create extra incentive for customers to choose your business over another.
Here are some ideas on what to post:
Event Notifications – Let people know about what upcoming events they can attend
Sales/Discounts – Who doesn't want the best bang for their buck?
Blog Posts – Give your customers the opportunity to know more.
Featured Product or Service – Showcase what your business has to offer.
Posts should be anything that will capture the interest of your customers! You can even add in a Call-To-Action button for convenience.
Pro Tip: Use images and emojis in your posts. Google can now index emojis 🤗 and younger generations ARE using emojis when searching. Capitalize on this by using them in your posts (or even in the listing itself!)
4. Booking & Scheduling
Convenience is key! If your business requires or accepts appointments, you can now add the ability to book or schedule directly on your listing. Everybody loves a one-stop shop. Search and book all in one go!
Using one of Google's supported partners, you can add a booking button to your GMB listing.
5. Questions & Answers
Everyone loves a good Q&A!
This feature is pretty much self-explanatory. It also can be super impactful.
Q&A's are a chance to directly interact with your customers and win them over. This feature shows up directly in your listing so that the customer never has to leave the main search page. Super convenient. Customers can ask questions and you provide the answers.
It's also a chance to answer any FAQs that may cause potential confusion for a customer. If your business experiences any commonly asked questions, go ahead and set up a list of Q&A's right away. Providing as much information upfront for a customer helps them to feel more confident in choosing your business.
CAUTION: You will want to be careful though because, just like the informative sections, anyone has the ability to answer the questions asked. This is another area that you will want to frequently check to make sure that you are the tell-all when it comes to questions about your business.
6. Reviews
Reviews are by far the biggest and most necessary feature of GMB listings.
Here's why: Reviews impact search results (SEO), customer trust and click-through-rates. Kind of a big deal!
Put yourself in your customer's shoes when it comes to reviews. How would you like to be treated or responded to when you leave a review for a business? It's like the saying goes, "the customer's always right!" Even if they're wrong, make them feel valued.
Here are some reviews Do's and Don'ts to keep in mind
DO respond to good reviews with gratitude.
DO respond to bad reviews with gratitude and grace.
DO try to rectify issues with customers.
DON'T bribe people for reviews. Earn your reviews!
DON'T violate Google's guidelines.
DON'T attempt to delete, rationalize or argue with bad reviews.
---
There are more in-depth features of GMB that can be impactful for your business but these 6 basics are a good starting place! At the end of the day, the more information you provide and the more helpful you are to your customers, the more likely they are to choose your business.
If you have any questions or need some help, we offer free 30 minute consultations to discuss your business needs. Contact us here to set up your free consultation now!